For more than 40 years nitrogen tire inflation has proved to deliver benefits to drivers by increasing fuel economy, tire life, and vehicle safety. With the development of lower-cost nitrogen systems, what used to be just a curiosity to many has become a mainstream practice.
​Nitrogen inflated tires have two distinct advantages when compared to tires filled with regular air:
A reduction of impurities (like water vapor)
Better tire pressure retention
Using nitrogen instead of air will remove the oxygen and moisture (or water vapor) that is in regular air. This is important because the oxygen will cause oxidation to occur on the inside of your tires resulting in premature aging. By using nitrogen and keeping your tires inflated to the proper pressure, your tires will have up to 50% more useful life. Plus not having to buy an expensive set of new tires as often will save you $80 a year or more depending on how much you drive and the cost per tire.
​Water vapor in compressed air acts as a catalyst, accelerating rust and corrosion. Water vapor also absorbs and holds heat. When water changes from liquid to vapor, water expands tremendously in volume and as a result, tires inflated with wet air tend to run hotter and fluctuate in pressure more. And even the best shops still have some water in their air.
Critics of nitrogen suggest buying a tire pressure gauge and monitoring your tire pressure, which we recommend too. When you do, you will find that your tires will lose 1-2 pounds of pressure every month. However, because the nitrogen molecules in air are larger that the oxygen molecules in air, using only nitrogen in your tires you will only lose 1lb. of tire pressure every six months. So nitrogen will keep you safer if you are part of the 85% of all motorists that do not regularly check your tires.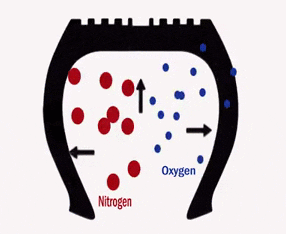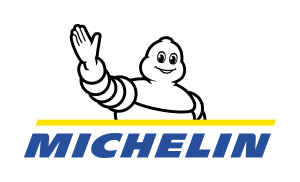 "Michelin supports the use of nitrogen
based on its ability to better
retain air over a period of time."

"Goodyear supports the use of nitrogen, as an inflation gas, in all Goodyear, Dunlop, Kelly, Associate Brand and Private Brand products, based on the ability for a tire to retain pressure for a longer period of time."

"While both nitrogen and oxygen
can permeate rubber,
nitrogen does it much more slowly."
CLICK HERE FOR A PARTIAL LIST OF STUDIES ON THE BENEFITS OF NITROGEN FOR TIRE INFLATION
WHY TIRE PRESSURE IS SO IMPORTANT
UNDER INFLATED TIRES ARE TO BLAME FOR APPROXIMATELY




660+ FATALITIES AND 33,000+ INJURIES EACH YEAR.

85% OF DRIVERS FAIL TO CHECK THEIR TIRE AIR PRESSURE CORRECTLY.
25% OF THE DRIVERS ON THE HIGHWAYS ARE DRIVING ON AT LEAST ONE SEVERELY UNDER-INFLATED TIRE.

90% OF BLOW-OUTS ARE ATTRIBUTED TO UNDER-INFLATED TIRES.
Think you can see when your tires need more inflation? Think again!
Tires that are as much as 50% under-inflated look the same to an
untrained observer. This could be a dangerous and expensive mistake.
Tires under-inflated by even as little as 6 psi may fail while driving, and
most failed tires are only around 20% under-inflated.
Cars manufactured since 2007 are equipped with a tire pressure sensor,
or TPMS, but the sensors are not programmed to activate the warning light
until your tires are at least 25% under-inflated and don't do anything at all
if over-inflated, which means you are already in the danger zone.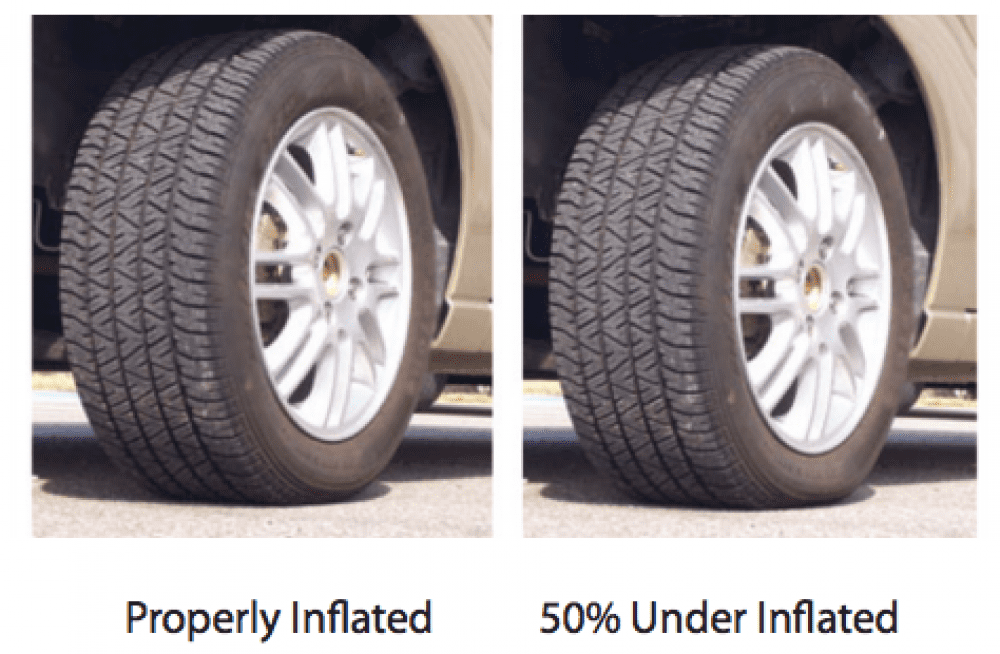 Watch Suzanne's story and see how our nitrogen tire inflation and roadside assistance can help keep you and your loved ones 'safe and on the road'! 
Partial List of Studies on the Benefits of Nitrogen for Tire Inflation
Ford Motor Study concludes that when N2 is used as an inflation gas the change in rubber properties is significantly slowed down or even halted

Harold Herzlich, BChe discusses the harmful effects of oxygen and rubber degradation supported by Akron Rubber Development Laboratory tests results.

Clemson University Study report on increase in fuel economy and increase in tire life by using nitrogen instead of air for tire inflation

Exxon/Mobil Chemical study concludes the tire pressure loss is reduced by 40% using nitrogen gas inflation

National Highway Transportation Safety Administration study on effects of varying levels of nitrogen in tires concludes -"Inflating tires with nitrogen shows a significant advantage in reducing inflation pressure loss"

Drexan corporation study on tire tread life concludes that nitrogen virtually eliminates oxidative aging in tires and this results in big cost savings